January 18, 2019
GeoComm Adds to Product Management Team, Expands Industry Leadership in Geospatial Call Routing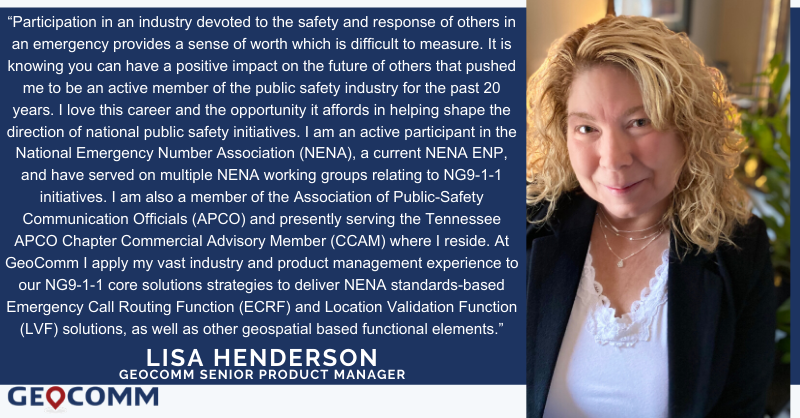 January 18, 2019
St. Cloud, MN: GeoComm is pleased to announce the addition of Lisa Henderson as the Senior Product Manager for Next Generation 9-1-1 (NG9-1-1) Core Solutions focusing specifically on the geospatial solutions needed in a NG9-1-1 Environment.
Lisa is a well-recognized public safety industry professional with over 20 years of experience working within the public safety industry. She is also an active participant in the National Emergency Number Association (NENA) and the Association of Public-Safety Communication Officials (APCO). She is a current NENA ENP and has served on multiple NENA working groups relating to NG9-1-1 initiatives, helping to shape the direction of 9-1-1. Lisa resides in Tennessee where she is the Tennessee APCO Chapter Commercial Advisory Member (CCAM) and is a frequent speaker at state and national association conferences.
At GeoComm, Lisa will apply her vast industry and product management experience to our NG9-1-1 Core Solution strategies to deliver NENA standards-based Emergency Call Routing Function (ECRF) and Location Validation Function (LVF) solutions, as well as other geospatial based functional elements. She will serve as an NG9-1-1 industry subject matter expert, representing GeoComm in areas such as NENA workgroups and NENA Industry Collaboration Events (ICE) participation.
"We are excited for Lisa to join the Product Management team, building upon our history of being a leader in geospatial call routing. As a seasoned public safety industry professional, we are confident her wealth of knowledge will benefit our customers through improved NG9-1-1 Core Solutions." Erik Loberg, Vice President of Product Management.
About GeoComm:
 GeoComm was founded in 1995 to provide county governments with turnkey emergency 9-1-1 development services. Over the subsequent 24 years, the company has grown to serve local, regional, statewide, and military agencies in forty-nine states, helping to keep more than 100 million people safe. Today, GeoComm has a national reputation as a leading provider of public safety GIS systems that route emergency calls to the appropriate call center, map the caller's location on call taker or dispatcher maps, and guide emergency responders to the scene of the accident on mobile displays within police, fire and ambulance vehicles. Our NG9-1-1 GIS solutions provide GIS data quality control, transformation, and aggregation services as well NG9-1-1 system emergency call routing. To learn more about GeoComm, please visit www.geocomm.com
Related Blog Posts
Read more

May 3, 2023

GeoComm, provider of Public Safety Location Intelligence®, is excited to announce the availability of GeoComm School Safety, a digital mapping solution which leverages the latest Esri ArcGIS technology to support faster response to school emergencies.  The solution provides detailed indoor maps of schools and surrounding grounds, along with critical information needed by school safety authorities, public safety agencies, and first responders for streamlining and reducing response times to emergencies inside schools. 

Read more

March 2, 2023

GeoComm, provider of Public Safety Location Intelligence®, is pleased to announce that it has earned the State and Local Government specialty designation from Esri. Partners in the State and Local Government specialty apply their ArcGIS knowledge and expertise to develop and configure ready-to-use solutions and offer implementation services to city, state, and local government customers.