March 10, 2017
GeoComm Reaches Important Milestone, Celebrates Twenty Year Parntership with ESRI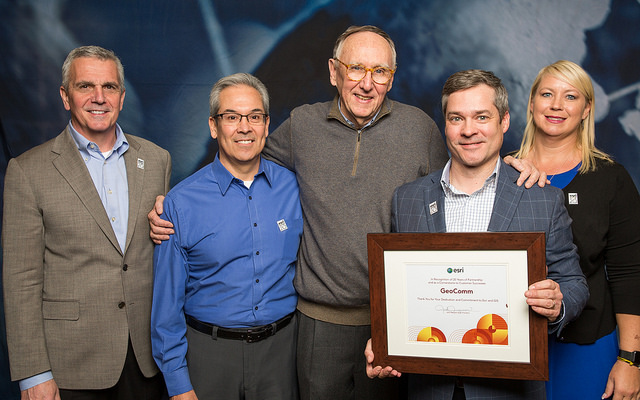 GeoComm is excited to have reached an important twenty years of a dedicated partnership milestone with Esri. This partnership demonstrates two decades of commitment to designing, developing, and leveraging the Esri ArcGIS software platform in our public safety GIS applications.
GeoComm has been an Esri Platinum Partner, which is the highest level of three tiers in the partner network, since March 2011. As a Platinum Tier Partner, GeoComm maintains a high level of collaboration with Esri, making our partnership beneficial to our customers by giving them access to superior products and services that exceed expectations.
In addition, GeoComm has been recognized by Esri over the years for outstanding achievements and top-level performance including:
2008 Esri Business Partner of the year award
2012 Esri Partner Conference Award Recipient for a Private Web Application
GeoComm was recognized for their twenty years of partnership at a special Cornerstone Partner event hosted by Esri president Jack Dangermond at the 2017 Esri Partner Conference held this week in Palm Springs, California.
"GeoComm is proud to be a long standing partner with Esri which has enabled us to provide innovative and effective solutions to our customers. Our partnership has been built on integrity and a common goal of providing our customers with industry leading public safety GIS applications. By continually innovating on the Esri ArcGIS platform we offer the most advanced GIS products and services in the public safety industry, and are committed to doing so for years to come."
John Bryant, GeoComm President and CEO
Related Blog Posts
Read more

July 12, 2022

GeoComm, provider of Public Safety Location Intelligence®, is excited to celebrate an important milestone – twenty-five years as a partner in the Esri Partner Network (EPN).  Esri is the global leader in geographic information systems (GIS) and location intelligence.  GeoComm's long-term Esri partnership demonstrates a commitment to designing, developing, and leveraging Esri technology for optimized use in the public safety market. 

Read more

May 5, 2022

GeoComm is pleased to announce a new partnership with NextNav, a leader in z-axis vertical positioning, to enhance floor-aware indoor mapping for E9-1-1. This partnership will dramatically improve geolocation of callers to provide floor-level altitude in multistory buildings in urban areas across the country.