July 12, 2022
GeoComm Celebrates Twenty-Five Year Esri Partner Network Partnership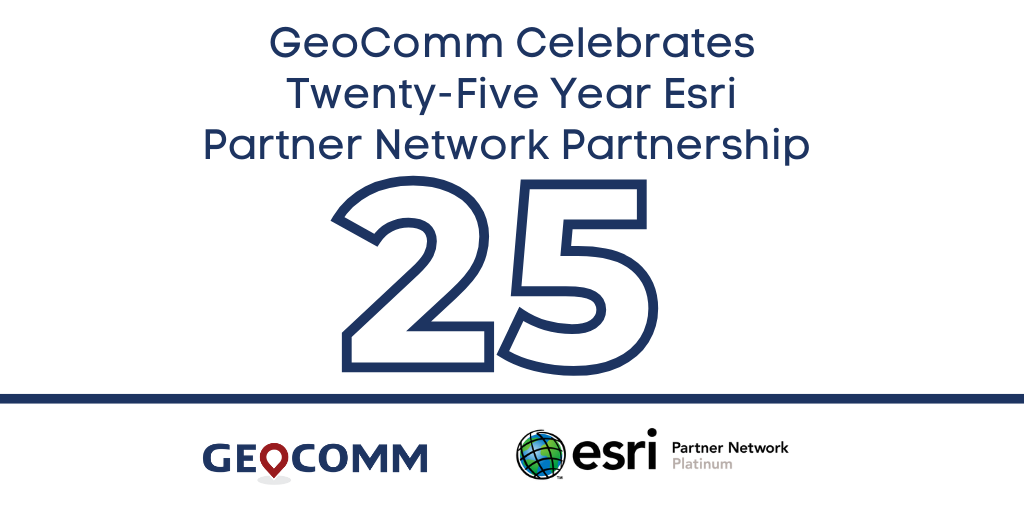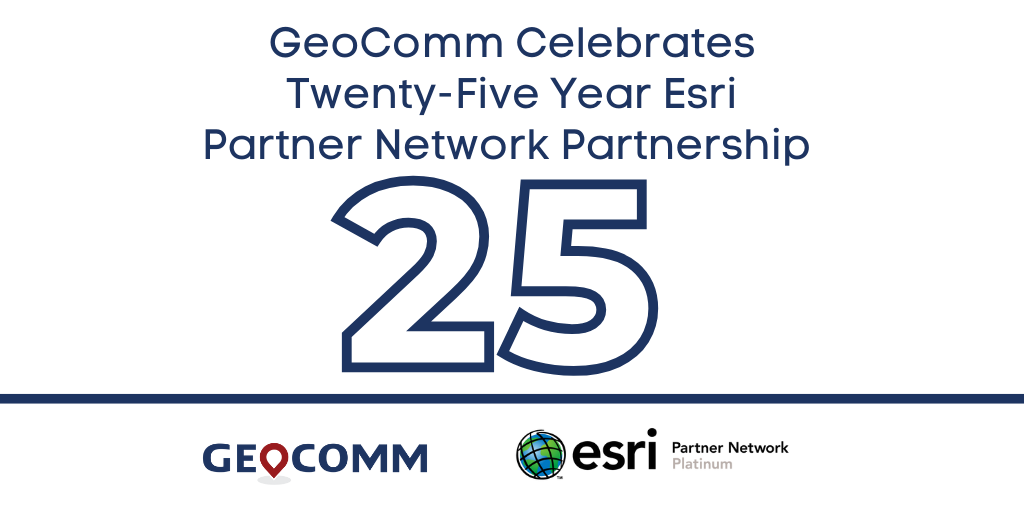 St. Cloud, MN:
GeoComm, provider of Public Safety Location Intelligence®, is excited to celebrate an important milestone – twenty-five years as a partner in the Esri Partner Network (EPN).  Esri is the global leader in geographic information systems (GIS) and location intelligence.  GeoComm's long-term Esri partnership demonstrates a commitment to designing, developing, and leveraging Esri technology for optimized use in the public safety market. 
In 2011, GeoComm became a Platinum Partner program member in the EPN, the highest of the partner programs. As a Platinum EPN Partner, GeoComm and Esri collaborate closely on advancing and maximizing the utilization of GIS in public safety and 9-1-1 programs for reducing response times, saving lives, and protecting property.
Throughout the years, GeoComm has been recognized by Esri for outstanding achievements and top-level performance including:
2008 Esri Business Partner of the year award

 

2011 Achieved Platinum level in the Esri Partner Network 

 

2012 Esri Partner Conference Award Recipient for a Private Web Application

 

2015 GeoComm's John Brosowsky, Vice President of Innovation, named to Esri's Partner CTO Council

 

2020 GeoComm's Jody Sayre, Vice President of Public Safety GIS Content, named to Esri's Partner Advisory Council 

 

2021 GeoComm received the ArcGIS System Ready Specialty designation 

 

2022 GeoComm Joins the Esri ArcGIS Marketplace with GeoComm Indoor Maps

 

2022 GeoComm Achieves Esri ArcGIS Indoors Specialty designation

 

2022 GeoComm receives New Collaboration Award recognizing our innovative work leveraging ArcGIS Software

 
"GeoComm is proud to be a long-standing partner with Esri which has enabled us to provide innovative and effective solutions to our customers. Our partnership has been built on integrity and a common goal of providing our customers with industry-leading public safety GIS applications. By continually innovating using Esri ArcGIS technology, we offer the most advanced GIS products and services in the public safety industry and are committed to doing so for years to come."
"Congratulations to GeoComm for celebrating 25 years as a partner in the Esri Partner Network. Through these years of collaboration, including more than 10 years as a Platinum partner, GeoComm has demonstrated their commitment to utilizing the latest Esri technology to develop industry leading public safety GIS services and solutions. We thank GeoComm for being a trusted Esri Partner, and we look forward to collaborating with them for many years to come."
To learn more about GeoComm's partnership with Esri

visit

https://www.geocomm.com/esripartnership/

or

visit with

us at

the

upcoming

Esri

National Security and Public Safety

Summit or Esri User Conference.
About Esri:  Esri, the global market leader in geographic information system (GIS) software, location intelligence, and mapping, helps customers unlock the full potential of data to improve operational and business results. Founded in 1969 in Redlands, California, USA, Esri software is deployed in more than 350,000 organizations globally and in over 200,000 institutions in the Americas, Asia and the Pacific, Europe, Africa, and the Middle East, including Fortune 500 companies, government agencies, nonprofits, and universities. Esri has regional offices, international distributors, and partners providing local support in over 100 countries on six continents. With its pioneering commitment to geospatial information technology, Esri engineers the most innovative solutions for digital transformation, the Internet of Things (IoT), and advanced analytics. Visit us at esri.com. 
About GeoComm: GeoComm, provider of Public Safety Location Intelligence®, serves local, regional, statewide, and military agencies in forty-nine states, helping keep more than 100 million people safe. Over the last 27 years, GeoComm's public safety GIS systems have routed emergency calls to the appropriate 9-1-1 call centers, mapped callers' locations on tactical emergency response mapping displays, and guided emergency responders to accident scenes on in-vehicle mapping and navigation applications within police, fire, and ambulance vehicles.  In addition, our statewide NG9-1-1 GIS project footprint has expanded to include 17 statewide projects across the country. Visit www.geocomm.com to learn more about GeoComm and our Public Safety Location Intelligence® offerings.
Related Blog Posts
Read more

September 26, 2023

GeoComm, provider of Public Safety Location Intelligence®, announces a new Vice President and General Manager of Safety and Security, appointing Bill McCullough. Bill will be responsible for leading and directing safety and security solutions as we build GeoComm School Safety.

Read more

July 27, 2023

GeoComm, provider of Public Safety Location Intelligence®, announces a leadership transition, appointing Jeff Liebl as GeoComm's next President and Chief Executive Officer (CEO). Jeff succeeds John Bryant who will transition to the Chair of the GeoComm Board of Directors.