December 3, 2019
Customer Feature: Denco Area 9-1-1 District
The Denco Area 9-1-1 District (Denco) is an emergency communication district in Texas, formed on August 25, 1987, after voters supported the creation of the emergency communications district. Denco provides 9-1-1 emergency communication services through seven primary and two secondary Public Safety Answering Points (PSAPs) to citizens in 31 jurisdictions throughout North Texas which includes suburban and rural areas in and around Denton County.
Denco has been a GeoComm customer since May 2014 when they began preparing for a future migration to a Next Generation 9-1-1 (NG9-1-1) system. At that time GeoComm completed a comprehensive 9-1-1 Data Analysis which provided an overview of accuracy and synchronization issues within Denco's GIS Data, MSAG, and ALI database. This analysis included providing Denco with an outline of recommended updates that would prepare the region's GIS data for use in a mission-critical NG9-1-1 system.
Following the GIS data analysis GeoComm worked with Denco to develop and document workflows to assist the region with ongoing maintenance of high quality NG9-1-1 GIS data. Throughout the years Denco has remained diligent in their GIS data maintenance efforts and today have the GIS data policies and workflow processes in place that follow NENA NG9-1-1 standards and ensure proper maintenance of a district-wide GIS database incorporating disparate databases from participating local governmental agencies. As a result from their diligent GIS maintenance efforts, Denco is on track to meet the minimum 98% synchronization rate between MSAG, ALI, and GIS data as recommended by NENA informational document 71-50112 by December 2019. This minimum standard is important for the GIS data to be considered viable for use in a NG9-1-1 system.

Denco along with some of the jurisdictions within the Denco coverage area utilize GeoComm Maintainer, an NG9-1-1 GIS addressing tool built in Esri's ArcGIS Desktop, to improve the quality and accuracy of their GIS data, automate address range assignment on their road segments, and identify and resolve synchronization issues between their 9-1-1 database and their GIS map data.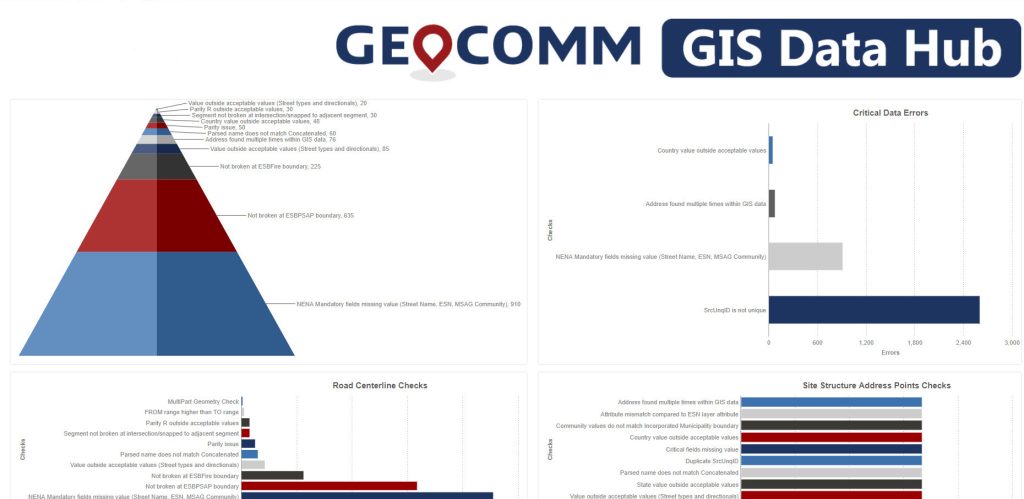 GeoComm Resolver is also used by all of Denco's jurisdictions to inspect and resolve GIS data discrepancies identified through a series of quality control checks provided by GeoComm GIS Data Hub. GeoComm utilizes Amazon Web Service to provide GIS Data Hub as a Software-as-a-Service (SaaS)GIS data management solution to Denco. Denco authorities utilize GIS Data Hub to manage their GIS data lifecycle by using it to complete GIS data validation against industry standards, generate actionable reporting, accomplish their multi GIS dataset aggregation, and prepare map packages for provisioning to their 9-1-1 mapping applications.
All of these software tools were designed to help Denco and the jurisdictions they serve overcome their unique GIS data obstacles and empower them with tools that would simplify the completion of their daily GIS processes.
Denco is currently preparing for a transition and implementation of the NG Core Services that will include an ECRF and LVF to support i3 spatial call routing of 9-1-1 calls.
Related Blog Posts
Read more

January 16, 2023

The North Platte, Nebraska Police Department serves as the Emergency Communications Center (ECC) for Lincoln County and the City of Gothenburg in Dawson County, serving a population of over 38,000 people and receiving over 15,000 9-1-1 calls each year.

Read more

October 27, 2022

Implementing new 9-1-1 mapping technology can be a large undertaking for public safety and GIS agencies, but experiencing improvements in 9-1-1 call processing capabilities and knowing that the 9-1-1 map is reliable, makes the process worthwhile.