February 6, 2021
2020 Year in Review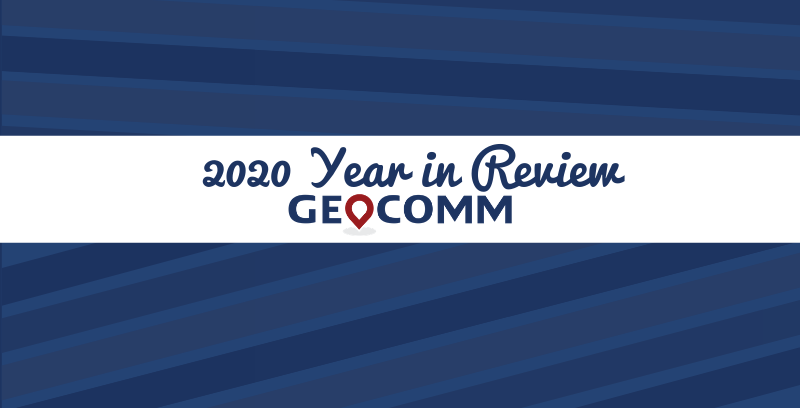 2020 was a year that changed the world, creating unique and stressful situations for everyone.  We know frontline workers faced many additional obstacles throughout the uncertain time, and we remain grateful for their ongoing commitment and dedication to helping the communities they serve. We also mourn, together, the loss of life and want to take a moment to honor those who have passed away due to COVID-19 and share sympathy with the families, friends, and communities affected.
As we look back at the year, GeoComm is fortunate to have been able to continue executing our company mission of helping our customers save lives and protect property by providing Public Safety Location Intelligence®: providing the right location data, on the right map, for the right people, at the right time.  As we look back at the uniqueness of the past year, we find that even through the difficulties of a pandemic, our customers accomplished a lot, and we are grateful to partner with them.  In 2020, GeoComm:
As we look to the future, we look forward to the continued partnership with agencies throughout the country to put the right location data, on the right map, for the right location, at the right time. We are honored to partner with you.
Related Blog Posts
Read more

December 2, 2021

GeoComm, the Public Safety Location Intelligence® leader, continues to grow with the expansion of their partner program, adding Amanda Vanderwerf to coordinate partner program activities. Vanderwerf joins long-time industry veteran Ty Thompson whose primary responsibility is partner relationships and development. Together, they will work to develop and support GeoComm partners.

Read more

September 16, 2021

Throughout 2021 we have welcomed 15 interns to the GeoComm team.  Our internship program is designed to ensure that each intern received a uniquely tailored internship experience based on their interests in the industry and areas of study.  These interns joined us from across the country and were paired with a dedicated mentor to ensure their internship goals were achieved and that they were empowered to achieve real world experience.  We greatly value the effort put forth by each of the interns while at GeoComm and appreciate many of them taking the time to share their experience working with our teams.