February 23, 2018
State of Iowa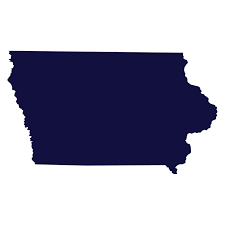 This winter marks four years since the State of Iowa and GeoComm began working together to assess, improve, and maintain GIS data throughout the state in preparation for Next Generation 9-1-1 (NG9-1-1).
As part of an ongoing initiative, the Iowa Homeland Security and Emergency Management (Iowa HSEMD) and the Iowa NG9-1-1 Geographic Information System (GIS) Committee in 2014 began improving the accuracy and standardize of the GIS data used for public safety throughout the state.
When the Iowa HSEMD project began, the first two years of the project were dedicated to GIS data assessment and improvement. The GIS data in each county was assessed to determine the current state of the GIS data, and then the Iowa HSEMD project team, NG9-1-1 GIS Committee, and GeoComm developed the Iowa statewide NG9-1-1 standards.
The GIS data assessment and standards were utilized to develop a GIS data improvement plan for each individual count to follow. Finally, an on-going sustainable way to maintain the quality of the improved GIS data and process it into a statewide dataset was been developed and implemented in each county.
In 2016, Iowa HSEMD moved into the ongoing GIS data maintenance phase which consists on-going GIS data assessment and improvement. Since then Iowa HSEMD and GeoComm have continued to work together with each of the individual counties for on-going sustainability by providing quality control checks and aggregating the local datasets into the statewide dataset.
Prior to 2014 and beginning this statewide project with Iowa HSEMD GeoComm already had a well-established history of providing 9-1-1 related GIS services to local counties and jurisdictions in Iowa.
About Iowa's 911 Program
Iowa's 911 Program is a part of the Iowa Homeland Security and Emergency Management Department. The program is primarily responsible for Wireless 911 throughout the state and currently has functional NG9-1-1 Emergency Services IP Network (ESInet). The state is also rapidly approaching a fully end-to-end NENA i3 environment with enhancements that are ongoing at the PSAPs. In Iowa, the legacy wireline environment is mostly overseen by local E911 Service Boards.
Related Blog Posts
Read more

September 2, 2021

How accurate is the public safety map data in your community? Does your call taker, dispatcher, and first responder have the necessary data during those critical seconds? These are important questions GIS and 9-1-1 teams need to answer. Learn how we can help you lay a foundation for success through a GIS data assessment.

Read more

August 19, 2021

With Geographic Information Systems (GIS) data playing a key role across E9-1-1, NG9-1-1, ECC and responder tactical mapping systems and applications, and now indoor and vertical 9-1-1 caller location, it has become an imperative for 9-1-1 to implement Public Safety Grade GIS data. These mission critical life safety systems and applications rely on GIS data to drive emergency response – helping to save lives and protect property. This GIS data must be highly accurate, highly secure, highly available, up-to-date, and commonly accessible to all mission critical life safety applications across 9-1-1 and public safety organizations.