February 15, 2022
GeoComm Announces Issuance of Indoor Mapping and Location Technology Patents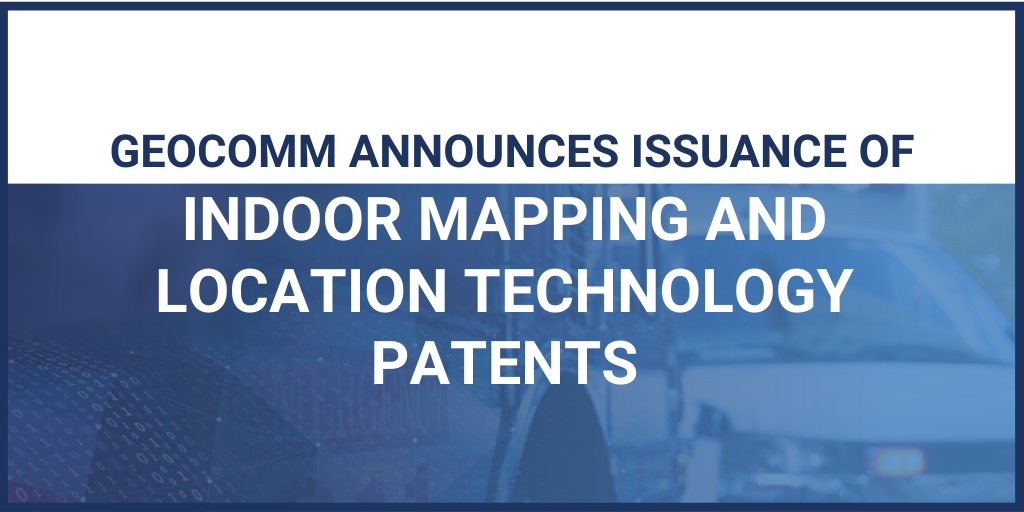 GeoComm is pleased to announce the issuance by the United States Patent and Trademark Office (USPTO) of two new patents related to GeoComm's indoor mapping and location technology:
SYSTEM AND METHODS FOR THREE-DIMENSIONAL VOLUMETRIC INDOOR LOCATION GEOCODING (US10,928,202)

SYSTEM AND METHODS FOR LARGE SCALE AUTOMATED INDOOR MAP DATA GEOREFERENCING (US11,190,902)
Regarding US10,928,202, GeoComm observed that traditional geocoding systems often rely on two-dimensional address points and/or address ranged road centerlines.  These traditional geocoding systems are very good at converting textual street addresses such as 101 Main Street, Saint Cloud MN, into numerical geographic coordinates that can be used for displaying an address location on a map on a computer screen.  However, NG9-1-1 civic address locations now also support sub-address elements such as floor and room.  Accordingly, to enable three-dimensional (3D) computerized mapping displays for 9-1-1 call takers, dispatchers, and emergency responders, GeoComm has created a novel system and methods for converting civic addresses with sub address elements into sets of 3D coordinates that can be used by mapping applications to draw or highlight 3D spaces on computer mapping displays.
Regarding US11,190,902, GeoComm observed that indoor positioning was coming to 9-1-1 thanks to new Federal Communications Commission (FCC) rules requiring wireless carriers to compute indoor positions of 9-1-1 calls from cell phones.  Additionally, the Ray Baum's Act went into effect on January 6, 2021 which requires location information for 9-1-1 calls from multiline telephone systems (MLTS) inside buildings. GeoComm observed that most industry developments and advancements in this area have been related to indoor positioning, and not indoor mapping.  To address this problem GeoComm worked with 9-1-1 entities to build indoor maps for display in 9-1-1, Computer Aided Dispatch (CAD), and responder mapping applications in order to help make indoor positioning actionable for reducing emergency response times by providing location context for indoor caller positions.   As GeoComm started working with 9-1-1 entities to build indoor maps for display in 9-1-1, CAD, and responder mapping applications, GeoComm quickly realized challenges related to the sheer number of buildings in the United States and Canada (over 135 million), and a prevalence of non-georeferenced building information and floorplan source documents.  To decrease costs for 9-1-1 entities and to scale indoor mapping for 9-1-1 across the United States and Canada, GeoComm has created a novel system and methods for automating traditionally expensive manual indoor mapping tasks by utilizing computer vision, machine learning, and other techniques.
"9-1-1 positioning technology is moving indoors.  Thanks to the hard work of many in the industry we are now witnessing a convergence of regulation, enforcement, legislation, standards, and technology enabling accurate positioning of emergency callers and responders indoors.  But without an indoor map, a highly accurate and precise indoor position is little more than a blue dot on an otherwise blank whiteboard.  These new inventions from GeoComm will map the indoors to enable robust caller and responder mapping and tracking systems to make indoor positioning actionable for reducing response times and saving lives."
For more information on GeoComm's innovative products and services that utilize these patented technologies, visit www.geocomm.com/indoormaps
About GeoComm:  GeoComm, provider of Public Safety Location Intelligence®, serves local, regional, statewide, and military agencies in forty-nine states, helping keep more than 100 million people safe.  Over the last 26 years, GeoComm's public safety GIS systems have routed emergency calls to the appropriate 9-1-1 call center, mapped the caller's location on a call taker or dispatcher map, and guided emergency responders to the scene of the accident on mobile displays within police, fire, and ambulance vehicles.  In addition, in 2021 our statewide NG9-1-1 GIS project footprint has expanded to include 17 statewide projects across the country. To learn more about GeoComm and our Public Safety Location Intelligence offerings visit www.geocomm.com.
Related Blog Posts
Read more

August 16, 2022

GeoComm is pleased to announce the addition of Jeff Liebl as their newly appointed President and Chief Operating Officer (COO). Liebl joins John Bryant, GeoComm Chief Executive Officer in leading the company. 

Read more

July 21, 2022

GeoComm is leading the way into the vertical frontier of Public Safety Location Intelligence® with the release of a new product, GeoComm Vertical Location Services. This offering provides the missing link to making the z-axis actionable during 9-1-1 calls by converting raw positioning measurements from 9-1-1 callers' cell phones into dispatchable locations including building name, street address, height above the ground, and probable floor level, while also generating a 3D visualization of the caller's location inside a building.