September 22, 2020
GeoComm Announces Public Safety Location Intelligence ™ Mapping Platform Unlocking Lifesaving Potential of Indoor Maps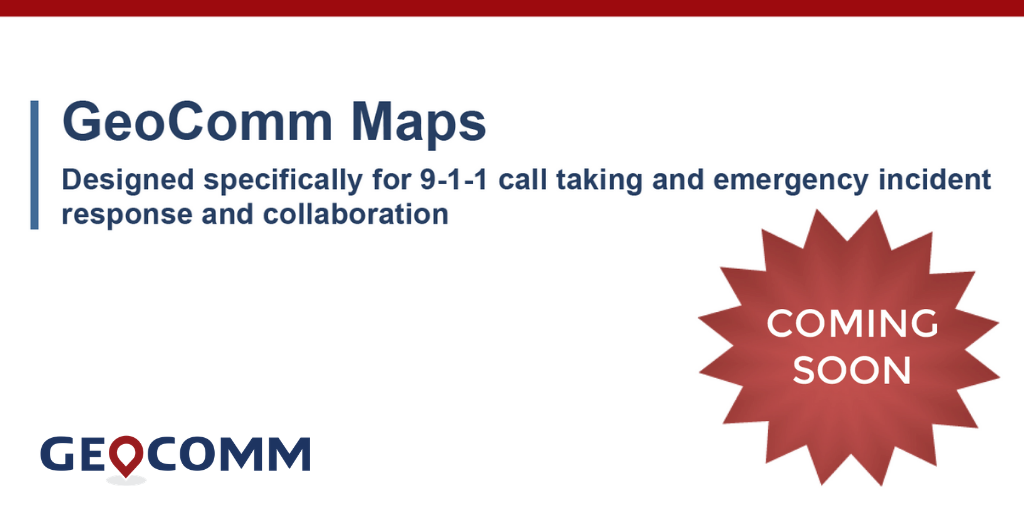 GeoComm, a leading provider of Public Safety Location Intelligence ™, is excited to announce the availability of GeoComm Maps in early 2021.  GeoComm Maps is a public safety mapping platform that is designed to unlock the critical lifesaving potential of indoor maps for 9-1-1 call takers and emergency responders.  This next generation mapping platform combines the innovative features of the past with the leading-edge technologies of today and the future made possible with cloud technologies.
Built on AWS GovCloud and leveraging the latest Esri technologies with GeoComm's industry leading GIS experience, GeoComm Maps enables Emergency Communications Centers leverage their locally authoritative GIS data with a simplified upload process into the Public Safety Location Intelligence Platform. GeoComm Maps provides public safety agencies with an affordable, secure, reliable, flexible dispatch mapping platform regardless of size and number of users.
"We are excited to announce the upcoming release of GeoComm Maps, the only 9-1-1 dispatch mapping solution that consolidates Public Safety Location Intelligence from local GIS, 9-1-1 call handling, CAD, and Responder Tracking onto a single mapping platform, improving user experience by eliminating the need to reference multiple mapping applications or information sources during emergency response. In addition, these enhanced capabilities will empower ECC's to unlock the live-saving potential of indoor geodetic positions of mobile phones during 9-1-1 calls, therefore achieving enhanced situational awareness for improved emergency response and management."
GeoComm Maps will be available for purchase in early 2021 however more information on this new Public Safety Location Intelligence mapping platform is available this week in our NENA Ignite Conference virtual booth.  Or contact us at [email protected] to receive additional product details prior to its official 2021 release.
Indoor Visual Representation
About GeoComm: GeoComm was founded in 1995 to provide county governments with turnkey emergency 9-1-1 development services. Over the subsequent 25 years, the company has grown to serve local, regional, statewide, and military agencies in forty-nine states, helping to keep more than 100 million people safe. Today, GeoComm has a national reputation as a leading provider of public safety GIS systems that route emergency calls to the appropriate call center, map the caller's location on call taker or dispatcher maps, and guide emergency responders to the scene of the accident on mobile displays within police, fire and ambulance vehicles. Our NG9-1-1 GIS solutions provide GIS data quality control, transformation, and aggregation services as well NG9-1-1 system emergency call routing. To learn more about GeoComm, please visit www.geocomm.com
Related Blog Posts
Read more

May 3, 2023

GeoComm, provider of Public Safety Location Intelligence®, is excited to announce the availability of GeoComm School Safety, a digital mapping solution which leverages the latest Esri ArcGIS technology to support faster response to school emergencies.  The solution provides detailed indoor maps of schools and surrounding grounds, along with critical information needed by school safety authorities, public safety agencies, and first responders for streamlining and reducing response times to emergencies inside schools. 

Read more

March 2, 2023

GeoComm, provider of Public Safety Location Intelligence®, is pleased to announce that it has earned the State and Local Government specialty designation from Esri. Partners in the State and Local Government specialty apply their ArcGIS knowledge and expertise to develop and configure ready-to-use solutions and offer implementation services to city, state, and local government customers.