December 17, 2021
GeoComm Webinar: Getting The Most Out Of Your Public Safety GIS Data Including Indoor Maps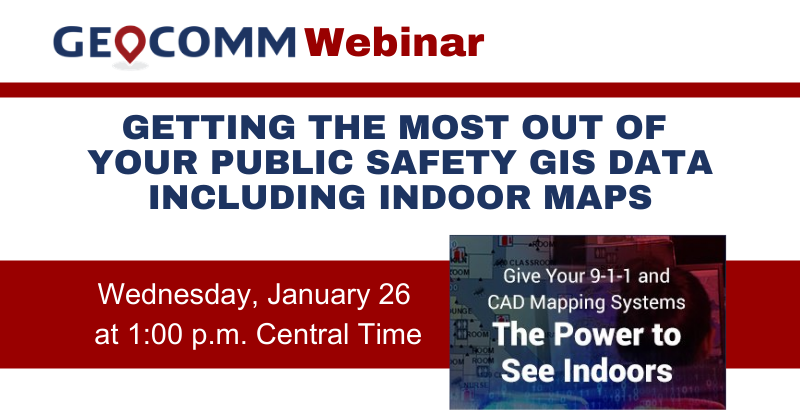 Public Safety Location Intelligence® is the hallmark of ensuring that the right location data is provided to the right people at the right time to help save more lives and protect property.
In this webinar, Keri Brennan, GISP, ENP GeoComm Product Manager – Public Safety GIS Content and Services and Dan Craigie, Market Manager, will discuss the next phase of Public Safety Location Intelligence as visualization and analysis moves indoors.  We will explore the creation, development, and deployment of actionable GIS data in the form of indoor maps within the public safety ecosystem, and beyond.
Wednesday, January 26
at 1:00 p.m. Central Time
Can't join us live? No problem! Register and you will receive a link to the webinar recording.
Related Blog Posts
Read more

March 17, 2021

On Friday, March 5, 2021, GeoComm hosted a webinar titled, "Embarking on your NG9-1-1 GIS Migration."   GeoComm's Jessica Frye, ENP, GIS Project manager and Kathy Liljequist, GIS Consultant offered attendees the opportunity to learn more about critical GIS data maintenance workflow decisions that 9-1-1 and GIS departments face as they embark on the NG9-1-1 GIS migration. 

Read more

February 19, 2021

As public safety moves from E9-1-1 to NG9-1-1 systems, the transitional stage can add another level of complexity to GIS data maintenance. This migration can seem like a large undertaking for public safety and GIS agencies; however, with the mission critical role of GIS data, it's a worthwhile effort to ensure your system meets data requirements at all stages of the transition. Join Jessica Frye, GISP, ENP, PMP, GeoComm Project Manager and Kathy Liljequist, GeoComm GIS Consultant will discuss what a transitional system for GIS looks like.