September 27, 2021
GeoComm Webinar: Enhance Your Public Safety Location Intelligence® by Utilizing what3words in GeoComm Maps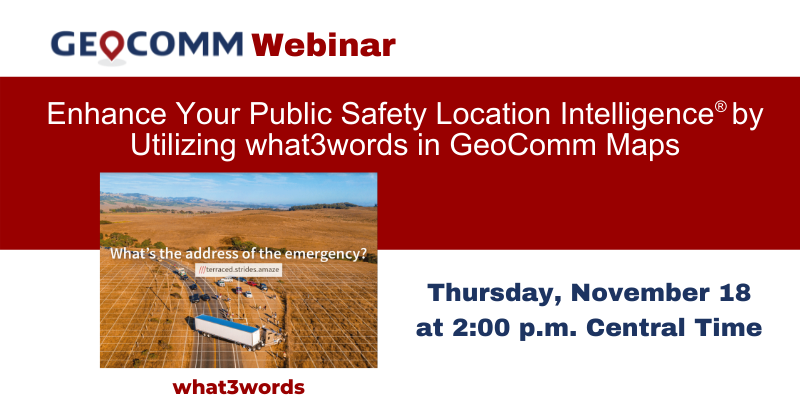 In an emergency every second counts.  GeoComm Maps is a highly available, secure, cloud-native mapping application purpose built to ensure GeoComm's Public Safety Location Intelligence® Platform, delivers the right location data, to the right people, at the right time.
The latest version of GeoComm Maps offers public safety telecommunicators using GeoComm Maps with an innovative tool designed to locate and convey locations using unique combinations of just three words.  Using a what3words address gives callers a simple way to describe precisely where help is needed, allowing emergency call centers to dispatch resources directly to the scene.
Join Karl Larsen, GeoComm Senior Product Manager for Public Safety Mapping Applications and Ashley Cashion, Director of US Partnerships at what3words (w3w) during a webinar on Thursday, November 18 at 2:00 p.m. Central Time to learn more about this exciting integration.
In addition, guest presenter Keri Brennan, Product Manager for GeoComm GIS Content and Services, will also share the value of adding additional content such as GeoComm Indoor Maps to your mapping application.
Thursday, November 18
at 2:00 p.m. Central Time
Can't join us live? No problem! Register and you will receive a link to a recording of this session.
Related Blog Posts
Read more

October 27, 2022

Implementing new 9-1-1 mapping technology can be a large undertaking for public safety and GIS agencies, but experiencing improvements in 9-1-1 call processing capabilities and knowing that the 9-1-1 map is reliable, makes the process worthwhile.

Read more

April 14, 2022

Rio Grande Council of Government (RGCOG) went live with GeoComm Maps as part of a cloud-native call-handling implementation by Carbyne. The system went live in February of this year and provides RGCOG, a regional entity that manages 9-1-1 for five of the most rural counties in the United States, with the latest technology.